Here is the new version of Wallbox2mp3 V1.5 to 155$
Wallbox2mp3 v1.5 are out of stock !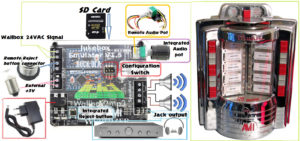 The wallbox2mp3 is an mp3 player able to decode signals from (almost) any jukebox Wallbox. It's an all in one solution to emulate all jukebox .With our system,you just turn your wallbox into a standalone jukebox.
Its main assets are :
A built in mp3 player ( no ipod needed ) , everything is in the box
A built in stereo audio amplifier
The biggest jukebox wallbox compatibility list
A free software to setup your wallbox2mp3 in few minutes.Moreover the software offer the ability to generate customized titlestrops pre filled with artists and song titles (it retreives these informations throughout your mp3 files Idtags if exist,so it won't work if your music comes for exemple from youtube).The software is free and so you can download and test it from the manufacturer of the wallbox2mp3 prior to buy.
Emulator complete and autonomous, with its own audio mp3 decoder chip to operate
Built in Audio Amplifier, it can be directly connected to the speackers of your wallbox if it provides some or any other without requiring an external amplifier.
Built in jack connector, allowing to be connected to an amplified speakers, a stereo system or a Bluetooth transmitter …
Programmable random music, if you do not make a selection during a given time, the wallbox can play random music.
Creating your music selection is simplified thanks to the free wallbox2mp3 application that supports Windows, Mac and Linux. – Easy Configuration owing to the free software provided
The wiring can be done without modifying your consolette .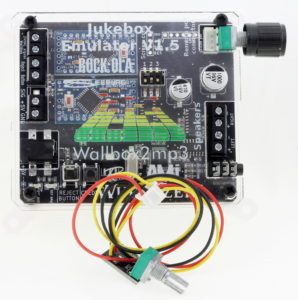 Contents of your wallbox2mp3 kit :
– A wallbox2mp3
– A 220V / 110V power adapter 5V (UK,US or EU plug on demand)
What you'll also need and we do not provide :
 – A fuse holder and a fuse
 – A small set of tools (screwdriver, wire stripper, wire cutter)
– A power cord with plug for your location.
– A SD card
Warning: Your wallbox was powered by its jukebox , so you will need an external power supply. We can't provide it as the package would be to heavy but it's easy to find. You must use a 220V transformer (for europe, africa and asia most countries) or 110V (mainly for the countries of North and South America as well as Japan) to 24VAC minimum of 2 amperes ( at least 50w ) not supplied in the kit. So,we'll also place in the list of needed but not provided items :
– A transformer 110 or 220V depending on your region of the world (220 for Europe) to 24 VAC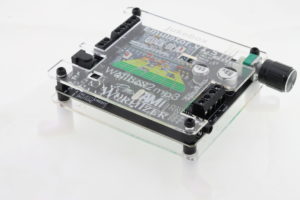 The new V1.5 wallbox2mp3 released manages the sound a completely new way ; The sound is now digitally managed until it arrives to its amp / jack output ,so it's fully protected against Electromagnetic Interference ,it's also protected by much more audio filters. The sound doesn't go any more throughout the remote pot ribbon but has been replaced by a simple current , so you can use a very long remote pot cable ( up to 150 inches,more than 400 inches using an higher wire gauge ) without any consequence on sound quality.
Moreover the sound amplifier is much more powerfull and can act as a class D ( better efficiency ) or a class AB ( to sum up better sound quality ) audio amplifier
Example :